Written by : Charlotte Rene Woods with Richmond BizSense
Our Broker/Owner Chris Small represented the sellers at 3101 W. Franklin in the Museum District.
The weather may be frigid, but the local high-end home market stayed hot last month, with each of the top five most-expensive sales fetching seven-figure prices.
Topping the list was the 9,400-square-foot home at 13284 Barkstone Court in Goochland, which sold Nov. 16 for $1.75 million. The home previously was owned by an owner of the Richmond Flying Squirrels and was purchased by a member of Colonial Downs Group, which is working to bring horseback racing back to New Kent County.
No. 2 was a Midlothian-area craftsman-style home on 1907 Bedwyn Lane that sold for $1.5 million on Nov. 30. The three-story, five-bedroom, 8,627-square-foot property had been on the market since June and was listed at $1.59 million. The seller was represented by Charlie Bickel and Casey Zyglocke of Charlie Bickel Real Estate. Derek Radtke of Re/Max Action Real Estate represented the buyer, listed in property records as Brian Liang-Yu Chen. Property records show the seller was Jeffrey B. Ward.
Back in the city, a Museum District home at 3101 W. Franklin St. was the third-highest residential sale for November, coming in at $1.3 million on Nov 9. Constructed in 1916 by German architect Carl Ruhrmund, the property was listed at $1.39 million and had been on the market since the end of March. It sold to Jonathan Moore and Michael Dippenaar, according to city records. The sellers were Jeffrey T. Wells and Mac Pence, who at one point operated the home as a bed and breakfast.
Chris Small of Small & Associates, who represented the seller, said the property is subject to an interior easement put in place by previous owners that prevents drastic remodeling.Small said the new owners agreed to the easement and plan to use the home for residential purposes. Robb Moss of Long & Foster Christie's International Real Estate represented the buyers.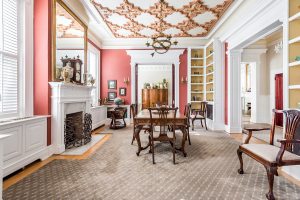 (Courtesy of Small & Associates Real Estate)
Rounding out November's top five, according to the Central Virginia Multiple Listing Service:
4101 Old Gun Road, Midlothian, $1.3 million. Agents: Alex and Lauren Glaser of Long & Foster, and Marguerite Makins of The Steele Group.
5810 Maple Green Circle, Richmond, $1.17 million. Agents: Shelly Roberts and Scott Shaheen of Shaheen, Ruth, Martin and & Fonville Real Estate; Sarah Landrum of Keller Williams Midlothian.